Convert DBX Files To PST Files When Businesses Opt For Outlook
There is an online debate over the topic as which email client is suitable for businesses. In most of the conclusions, we see MS Outlook as a clear winner and there are some obvious reasons behind it. Here, we will talk about the reasons that make Outlook a solution for businesses over Outlook Express and how to convert DBX files to PST files for the purpose of data transfer.
Reason1) First of all, the basics of an ideal email client are missing from Outlook Express. For example, there is no provision for maintaining schedule of upcoming hours, days, and months, i.e. the Calendar is missing from OE.
Reason2) Then, the contacts do not get saved in DBX folders. They get saved in separate file called Windows Address Book (WAB). This makes searching and sharing of contacts a little inconvenient.
Reason3) Customizing OE is not possible using VBA programming while MS Outlook can be improved with the help of add-ins and VBA. This gives users a better emailing environment that can be made better as per requirements.
Reason4) Also, another reason that ends up with requirement for DBX to PST file converter is the proficiency of Outlook for setting rules for incoming as well as for outgoing emails. This helps in management of messages that are being received or to be sent.
Reason5) The additions in Outlook are its items like journals, tasks, contacts in PST file only, better security, email encryption, enhanced size of PST file for mailbox data storage, improved Import/Export options etc.
From business point of view, all these points favor Outlook. Moreover, Outlook capable working with Exchange Server is acclaimed. So, all these points (and many more) give a reason to switch the mail client, then how to convert DBX files to PST files must be the query that strikes in mind.
Recommended Solution:
It is not necessary that drawbacks of OE enforce users to switch to another MS Office integrated mail client like Outlook. It can be the Operating System that might be the cause as Outlook Express is available with Windows 98-XP editions and now days there are advanced versions of Win. OS introduced in the market. To convert DBX to PST online, the option worth investment is DBX Converter as it converts OE mails to PST, EML, MSG, RTF, and HTML file format.
Perform Multiple Conversion !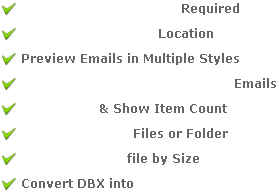 Support Section